Start by Creating a new User
Browse to https://developer.interswitchng.com/. Click on the arrow on the login button and then Register.

Fill the sign up form and click on the Sign Up button. A mail would be sent to the email address you provided.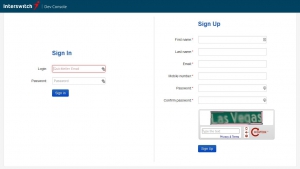 Create a New APP
Login to developer console and click on Get Started.
Click on Start Integrating
Create a new app, ensure the application type created is REST/SOAP Client. When the app has been created, take note of your Client ID
Click on the Manage tab and go to the services section. Turn on the Card Service. (If you cannot see this service, kindly request for it to be added to your profile)
Test the Card Service
Click on the API Console you would be taken to a page where you can test the service you just activated.
Fill in the necessary parameters to test Balance Enquiry and Change Pin. Refer to the Balance Enquiry and Change Pin Section.